WORKPLACE DRUG TESTING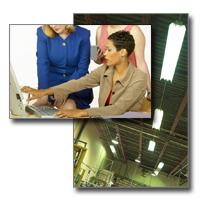 Forward Edge Associates has over fifteen years experience in helping companies develop and manage workplace testing. The key elements of a successful workplace testing program are as follows:
Before testing begins, the company should have a written employee substance abuse policy that has been fully communicated to the employees. This plan should tell the employee what behavior is permitted and not permitted while stating what actions can be taken by the employer if the policy is violated.
Drug abuse in the workplace can be called the 'Silent Thief' as it is difficult to identify those employees that are impaired. Many studies show that employee substance abuse is associated with:
Lower employee productivity
Greater employee absenteeism and tardiness
Accidents and higher insurance rates
Product loss, waste, and theft
Problems in supervision
Drug Testing is a proven method to reduce employee drug use in the workplace. To create and maintain a drug-free workplace environment it is recommended that companies implement the following types of testing:
Pre-employment Testing: Before any job candidate is hired they should be required to pass a drug test. This approach helps keep problem employees from entering your organization.
Random Testing: This is a program where a company keeps all the employees in a testing pool, and periodically selects a certain percentage of the employees for testing. The selection process is best handled by a computer with each employee having an equal chance of being selected for testing.
Post-Accident Testing: This type of testing helps the employer determine if substance abuse contributed to an accident, and is another tool to help identify substance abuse.
Reasonable-Suspicion Testing: This type of testing is used when trained supervisors observe employee behavior that is consistent with drug abuse. The supervisor should document such behavior in writing when this type of test is requested.
Why is Forward Edge Associates your best choice for Workplace Testing?
Unbeatable Pricing: As the largest drug testing company in the area, Forward Edge Associates can use its volume purchasing power to offer the best overall value in drug testing services.
Complete Range of Testing Services: Forward Edge Associates is a full service company that can service any type of workplace testing needs. From onsite testing, to instant testing, to handling multiple locations, we can offer quality testing and management services.
Fast Turnaround Time: We understand that in addition to lower prices and accurate results, workplace testing requires fast turnaround time on results. Forward Edge Associates manages the Medical Review Officer (MRO) function to speed the total review and reporting of results.