INSTANT TESTING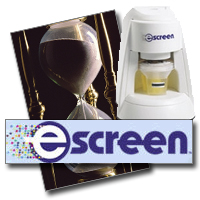 Forward Edge Associates has the capability to perform instant drug tests for those clients that need instant results. Instant testing is available at our Lexington, KY and Frankfort, KY collections sites. Those two offices also have capabilities to perform E-Screen instant tests for those clients needing that service.
There are two key advantages in using an Instant Test Kit:
The results of the test can be read within one to five minutes of the collection of the urine specimen.


Instant tests are generally cheaper than a laboratory based test.
Instant Test Kits have several drawbacks:
Instant kits are not as reliable as a laboratory tests. Test kits have both false positives and false negatives that will not be found unless the specimen is also sent to a laboratory for additional testing.


Instant kits rely on the collector being able to accurately read the results of the test kit putting more potential liability on the shoulders of the collector.


Instant kits cannot test for as many substances as a laboratory based test. A laboratory test from a SAMSHA certified lab is able to test for adulterants and other factors that increase the quality of the test results reported.