HAIR & SALIVA TESTING
Forward Edge Associates personnel are trained on performing hair testing when requested by clients.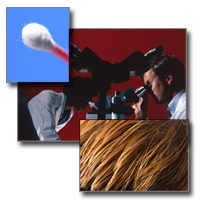 Advantages of Hair Testing
Good method to detect past history of use by donor, which can generate additional insight for long term workplace hiring decisions.


Donors can only avoid test by shaving off all hair.


Since sample is provided in front of donor, there is no opportunity to provide a substitute specimen.
Disadvantages of Hair Testing.
Most expensive method of testing due to current laboratory costs.
Test may be culturally biased, (I.e., coarse hair retains chemicals longer)
Can only screen for up to five drugs.
Currently some adulterants in the form of shampoo are becoming available on the market.
Collector may be required to collect hair from several places, which slows down the collection process as compared to urine testing.
Donors may complain about collectors creating gapes in the donor's hair.
Slower turnaround of results as laboratories analyzing hair require more time.
For athletic testing, clients may only be interested in current use of drugs, not past or previous use. Urine testing is a better indicator of current ongoing drug use than hair testing.
Urine testing is more accurate in detecting marijuana use as sometimes known marijuana users will show up as being negative in a hair test.
Advantages of Saliva Testing
Does not require a urine sample
Sample given in front of collector so there is less opportunity to substitute or dilute specimen.
May be a good backup testing vehicle for follow up testing, reasonable suspicion testing, or students that have trouble providing a urine specimen.
Disadvantages of Saliva Testing
More Expensive than urine testing
Can only test for five drugs
Can only identify very recent use of substance (I.e., current or one day prior use)
Collectors will not be able to test as many students per hour, which will slow down the testing process
Less legal precedent with saliva testing compared to urine testing.